This is my MA Fine Art exhibition at Aberystwyth School of Art. I was awarded a Distinction for developing this new work and my evolving my practice based on research and making process sacred.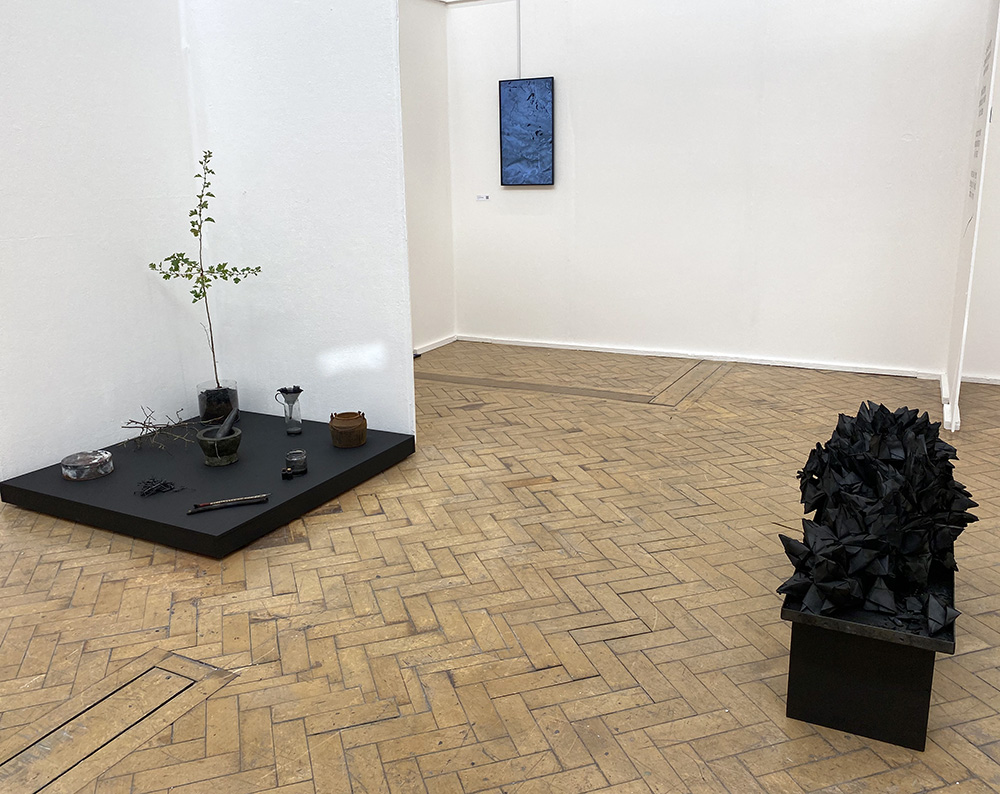 The Art of Not Knowing. The School of Art, Aberystwyth University
The title
Sacrificed to Fire
refers to the joyous place I found myself in after the epic creative and emotional journey as a post graduate student and mother during the pandemic. This dedicated time to my practice has allowed me to work with more clarity and I can now comfortably refer to myself as a research artist whose practice is rooted in materials, process and the act of making.
After two years exploring and researching amorphous carbon and the action of destructive distillation, this exhibition unearths my personal narratives and need for a spiritual connection to the world I live in. The rural landscape, my immersive time walking it alone and with my children and my meditative process and rituals lead me to materials and methods for this exhibition. Hawthorn branches collected in the hills after storms were transformed into ink. I used recycled waste paper that I repetitively and meticulously folded into hundreds of modular forms which were then constructed into monumental origami sculptures.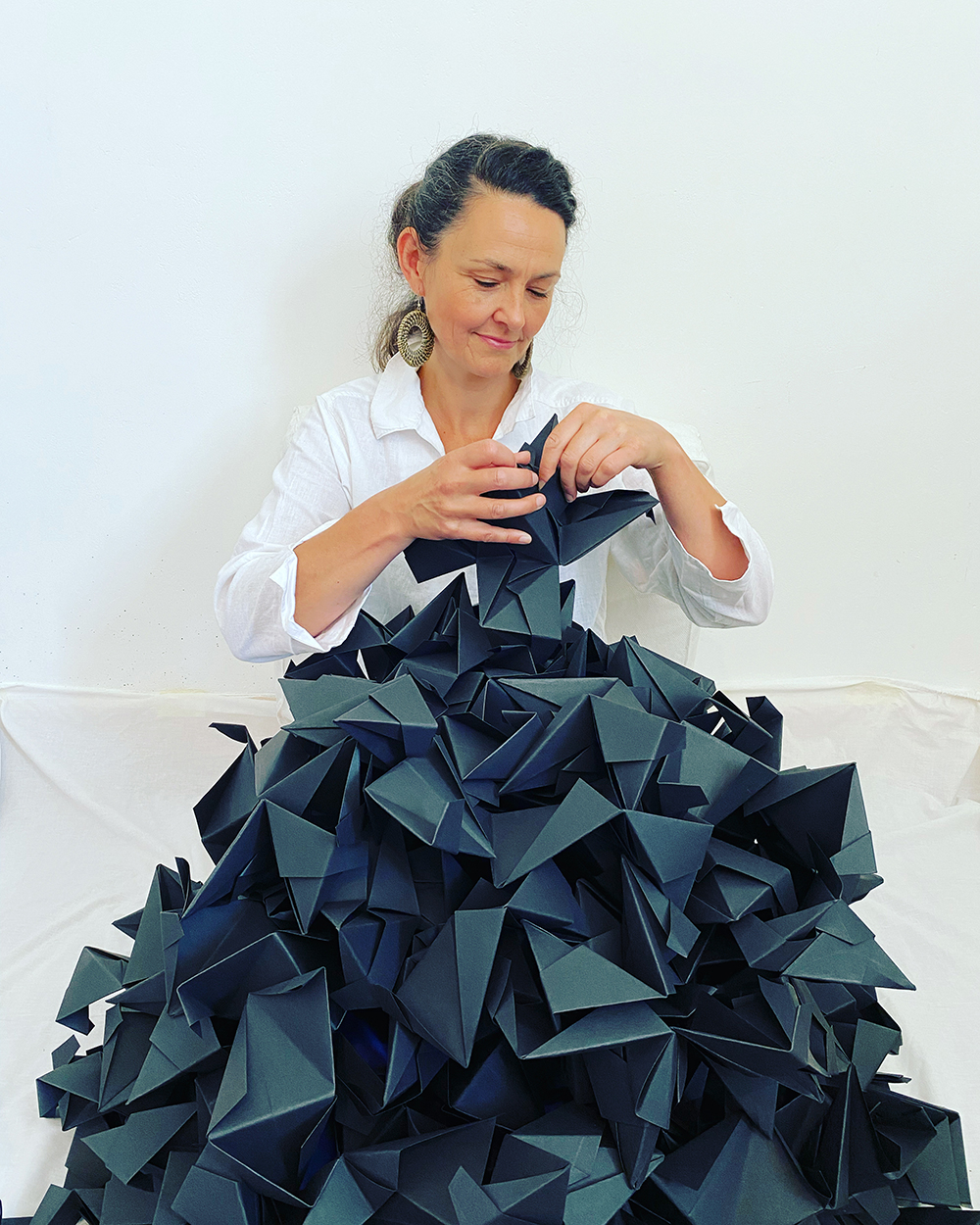 Self portrait folding modular origami
These once robust structures were then turned into delicate carbon or charcoal forms using pyrolysis. The energy of sacrifice, the ritual of repetitive action, the transformation using fire all became central to the work. The transient, fragile state and structure, the essence of matter transformed to carbon highlights everything interconnected and its fragility. Our place in the world is a precarious one yet it allows us to make connections and find joy in the shared energy within the web of life and the sublime beyond what we think we know.

Sacrificed To a Breathless Inferno. Recycled & carbonised sculpture on
Iron Tray
Through the ancient craft of charcoal making I attempt to reveal the moment of transformation. Through an intimate ritual in alchemy, potent energy is released and stored within a continual cycle. The exciting breathless inferno of forced decomposition transforms perceived life back to its amorphous essence, carbon.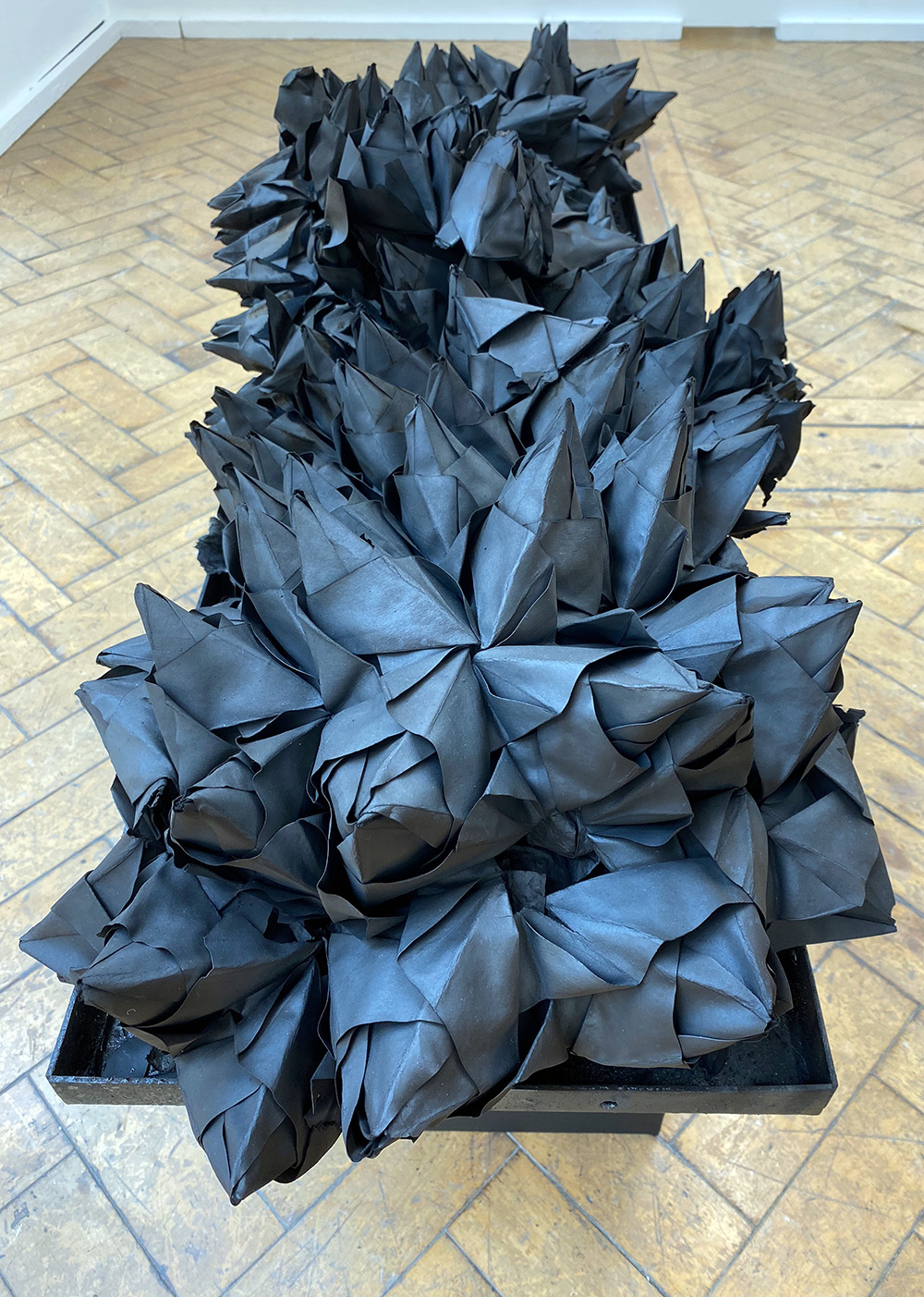 Sacrificed To a Breathless Inferno. Recycled & carbonised origami modular sculpture on
Iron Tray
For the second time I was drawn to experiment with slow film. I made the film "The Journey Matters' following on from my 'Physical Carbon' film made for my
Constructive Distillation
Exhibition. This is a long pensive journey of transformation, glimpsing at the energy and being slowed and lured by the unknown journey.
Alchemy and the journey from tree to ink investigates the transformation of materials.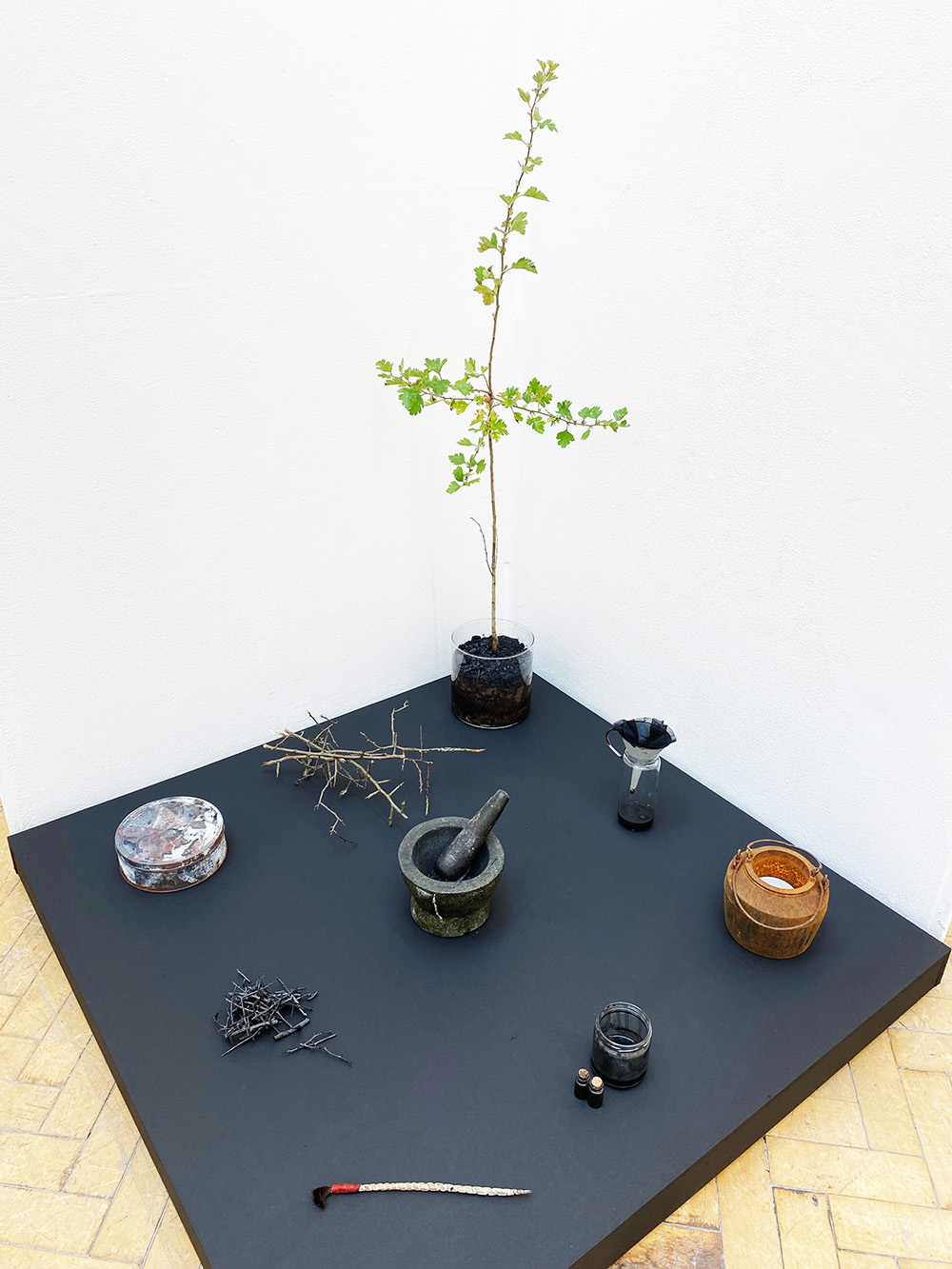 Photography and poetry describing the energy involved in pyrolysis, Greek derived elements of pyro=fire and lysis=seperating were not included in the final curation but none the less helped me step into the metaphysical realm linking artist, environment, material and process.
I once again pushed against new techniques and the intensive process of creative frottage (rubbings). These are actually more like a dry relief prints from solid material itself. I make complex, time consuming, meditative origami forms that were then carbonised. For each frottage or rubbing/print i crushed a complex carbon paper sculpture, destroying or sacrificing it to the technique trying to capture the energy of collapse. it's disaster that brings growth and new beginnings from the dust, are new opportunities for growth.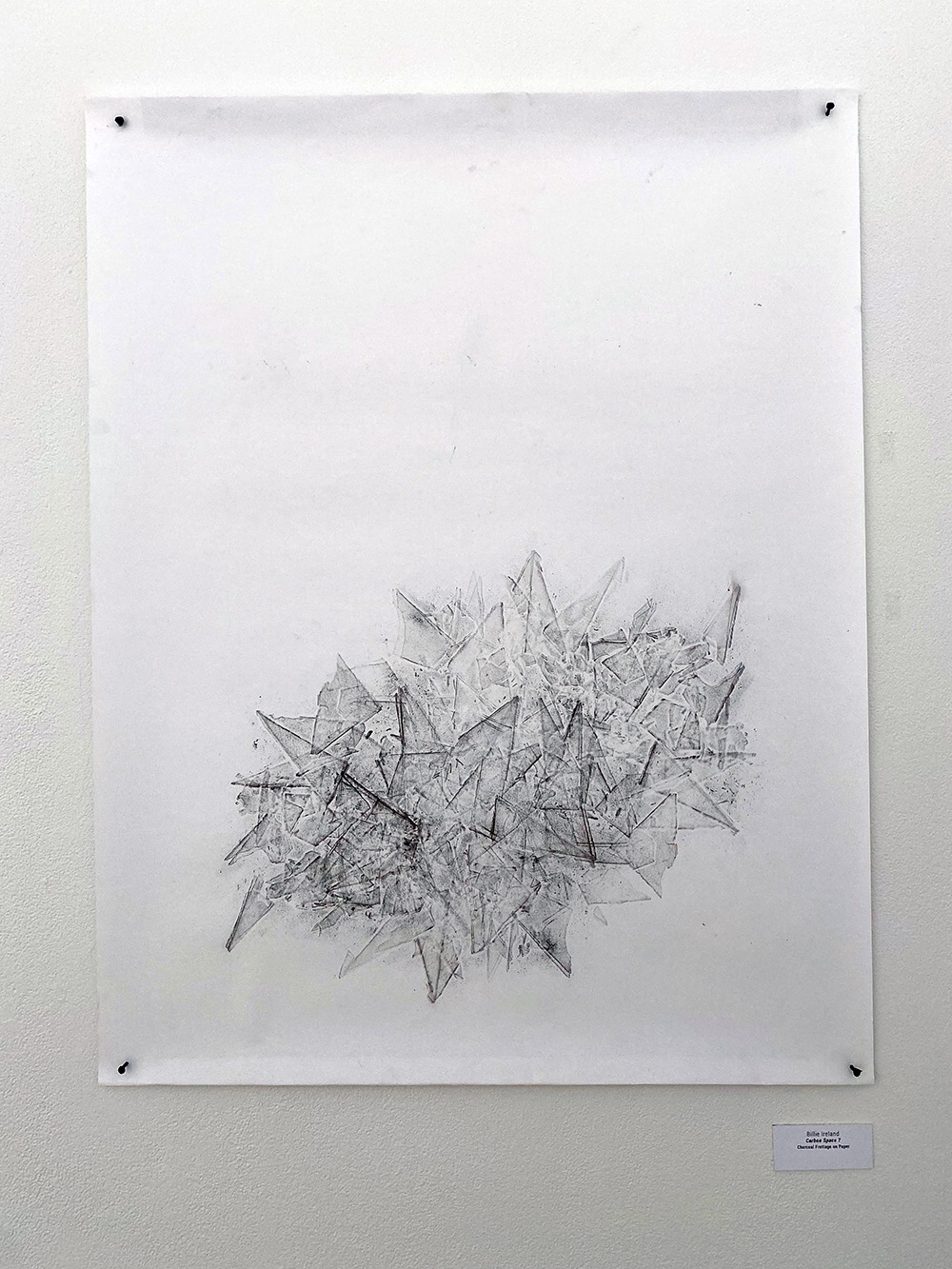 Space 7 Carbon Frottage on Paper