Barefoot Pilgrimage - The Spiral - The Weave
---
Barefoot Pilgrimage - The Spiral - The Weave
---
The Source
is a site-specific art commission in three parts; I was selected to make this work for the Artscape partnership project in the Hafren Forest, Powys. Wales.
Several creative practitioners from dancers to sound artists, writers and science collaborators to comedians and poets, worked to engage the communities across the county in climate conversations to coincide with Cop26.
Articulture's Julie Ann Heskin and Sarah Morton managed the
Artscape Powys Project October - December 2021.

Billie Ireland's application for  the commission immediately grabbed the imagination's of the panel. It was unanimously chosen to take forward because it engaged so imaginatively with the core theme of climate change and the Hafren Forest itself.
 
Whilst Billie's work may be considered conceptual her approach is pragmatic and grounded which makes her work accessible to anyone of any age. Her audience  engagement was informative and fun and appealed to all on many levels.

It was a pleasure to see and support an artist who was clearly in their element enjoying the journey that her work took her.
She wove the  themes of climate change, connection to place, local history and  carbon in an imaginative and creative manner. 
The  commission  proposal was well thought through with a realistic budget  and was delivered  within a very challenging time frame.
Billie's  warm and approachable personality made this a very enjoyable experience for Articulture
Part 1: 'The Barefoot Pilgrimage'
was a journey to the source of the Afon Hafren or Severn River, to collect water samples from the peat bogs of Plumlumon. These were then sent to Phycologist Dan Fagan of @awesomealgae on Instagram.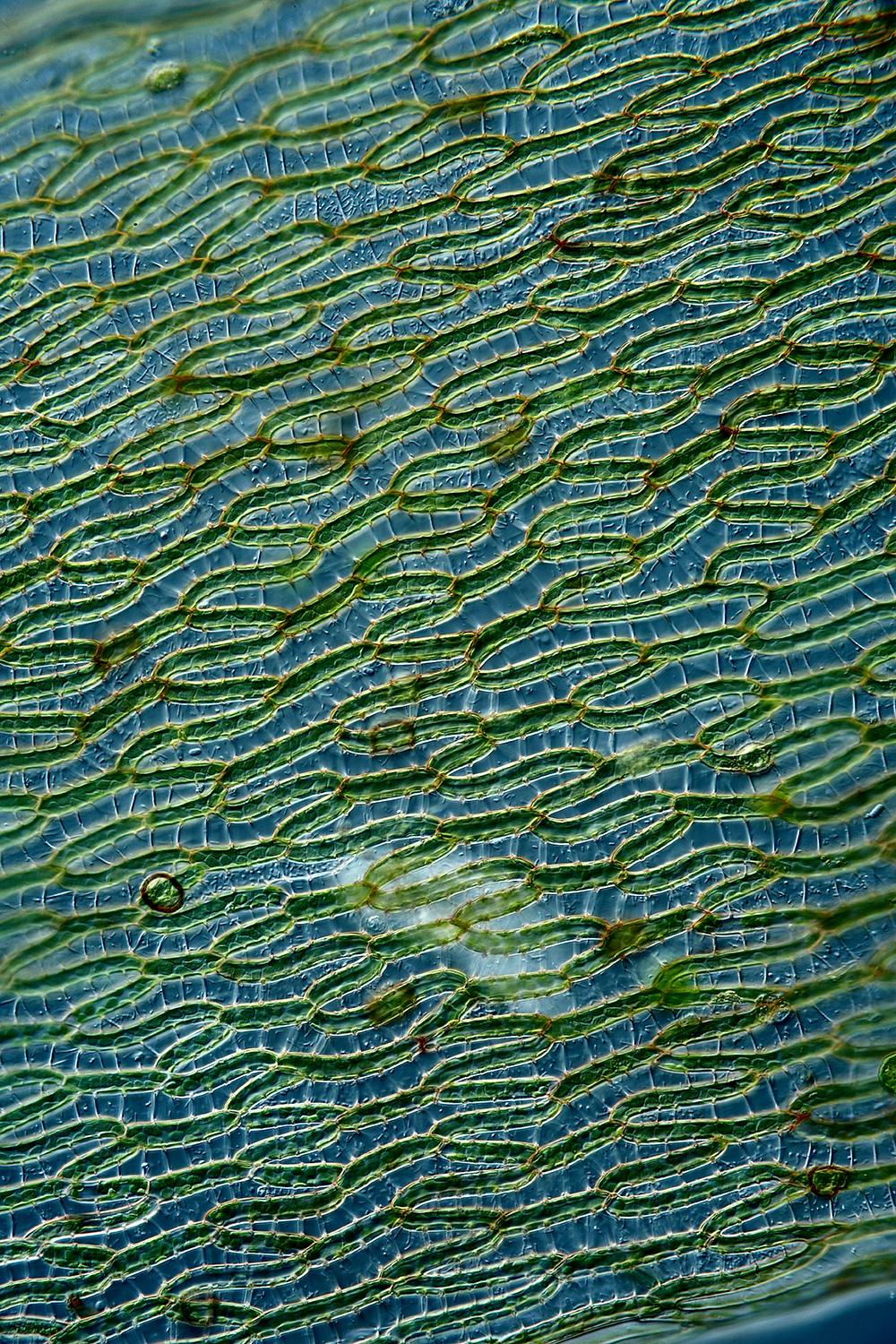 Using the programme of events led by youth collective Re-Peat I started my research into the layered micro and macro human and non-human realms of time and space framed within our threatened peat lands. I also invited Dan from Montgomery Wildlife Trust to demonstrate to families the importance of Peat land through his fun interactive activities.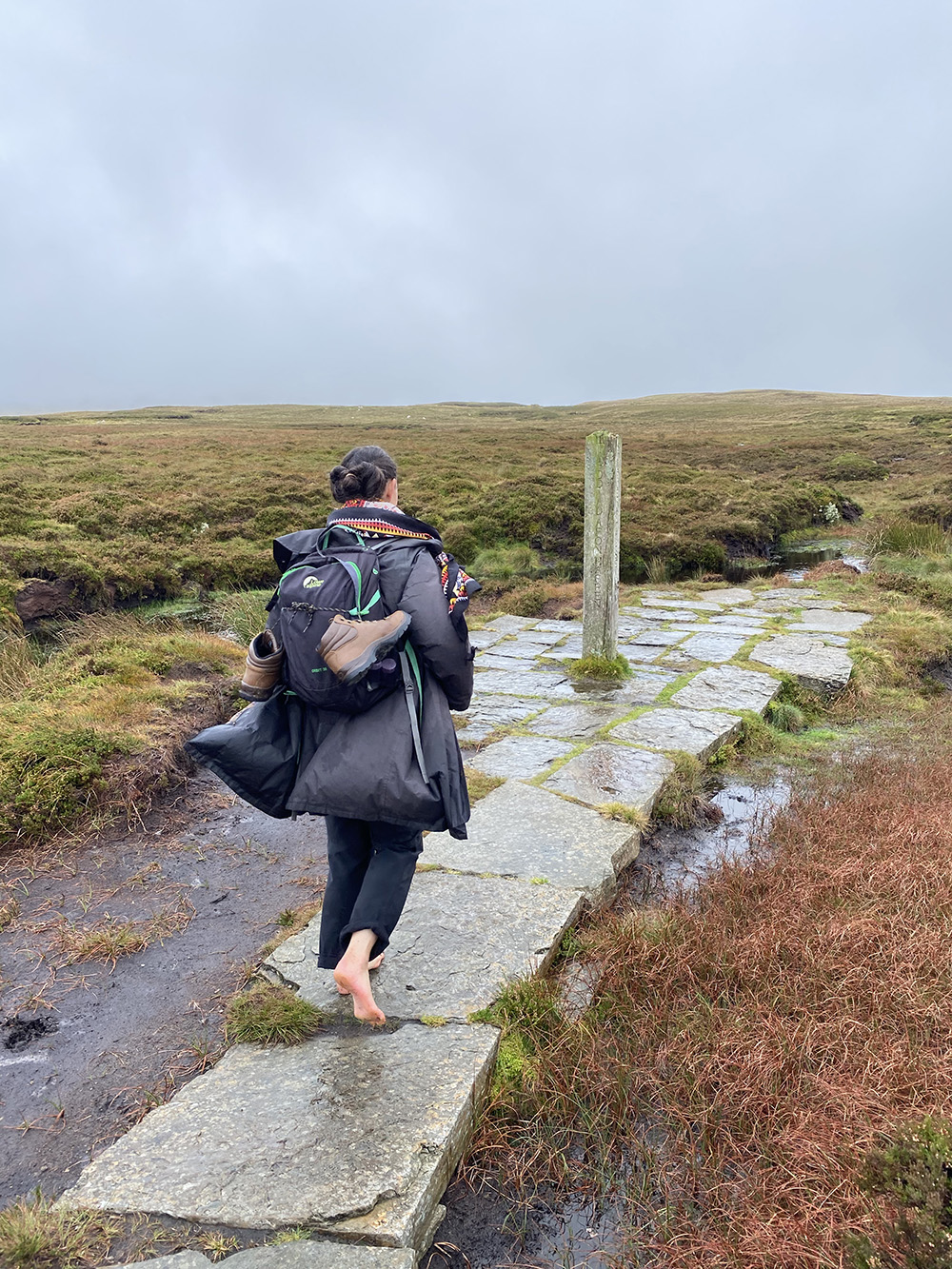 I walked barefoot to connect and to stay curious about my privileged perceptions. Also I created a personal, sacred journey connecting to my female ancestry through walking and nature.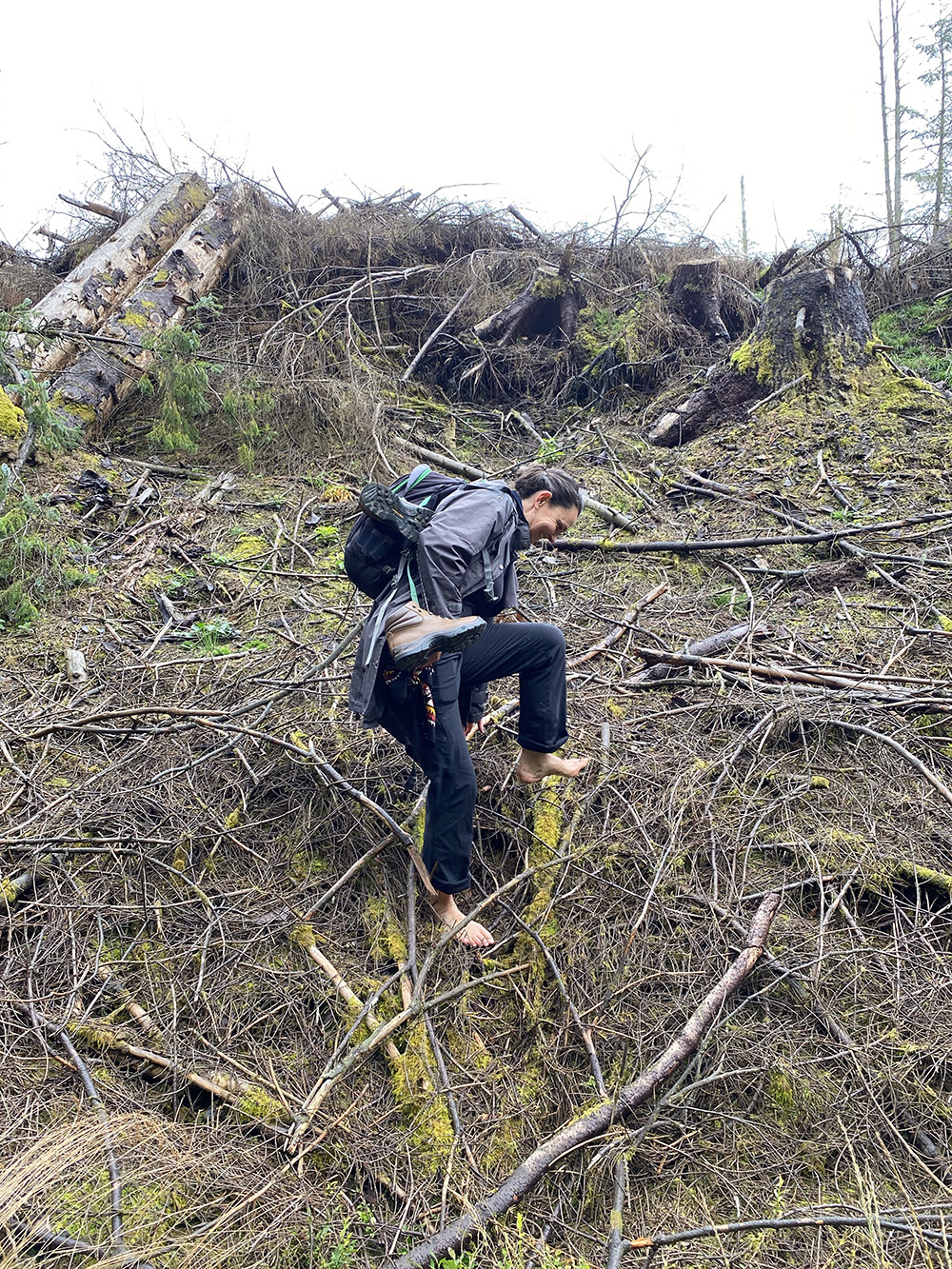 Part 2: 'The Carbon Spiral'
was created by taking debris from forestry clear cutting and turning it into biochar. This was then processed into black tempera paint creating a spiral on the trunk of a dead tree.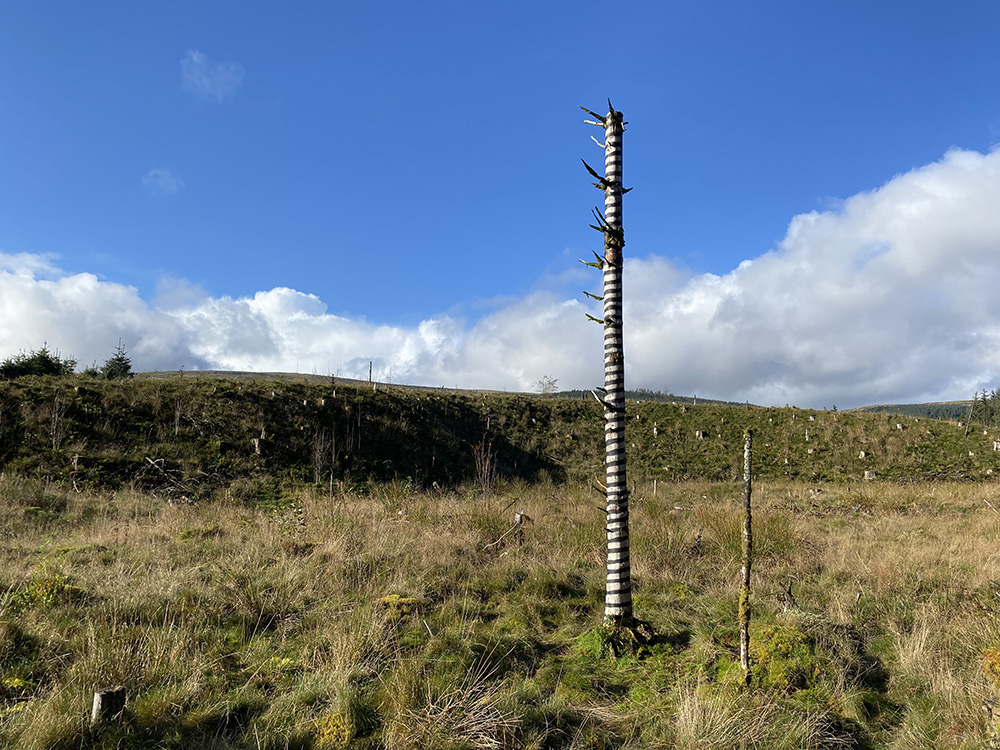 It forms a totem that reflects on transformation and the cycle of birth, life and death. I circumambulated the tree to assist in creating a sacred, poetic and sensitive engagement with the landscape and the non-human elements, creating personal sacred interactions.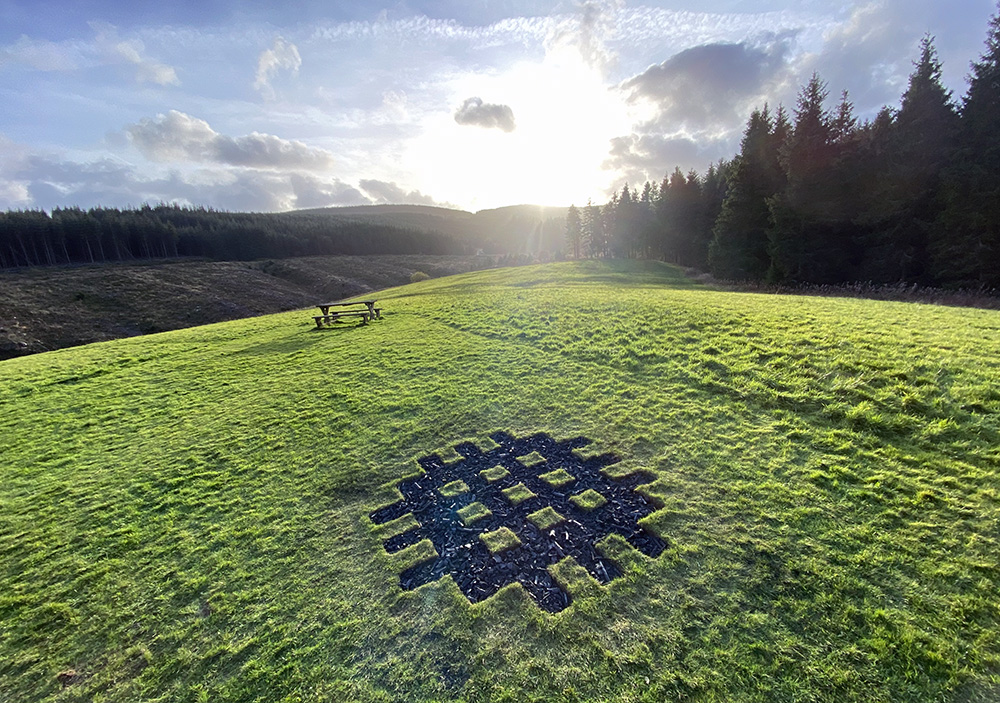 Part 3: 'Weaving Carbon Connection'
used the classic Welsh weave pattern cut into the turf at the meadow in the Hafren Forest. This became an anti-peat cut, this was then filled with bio-char, as both a symbol linking place, material and people. I invited Tony from Bio-char Wales who comes from an Welsh upland's farming family. He demonstrated and discussed the use of a bio-char and the retort.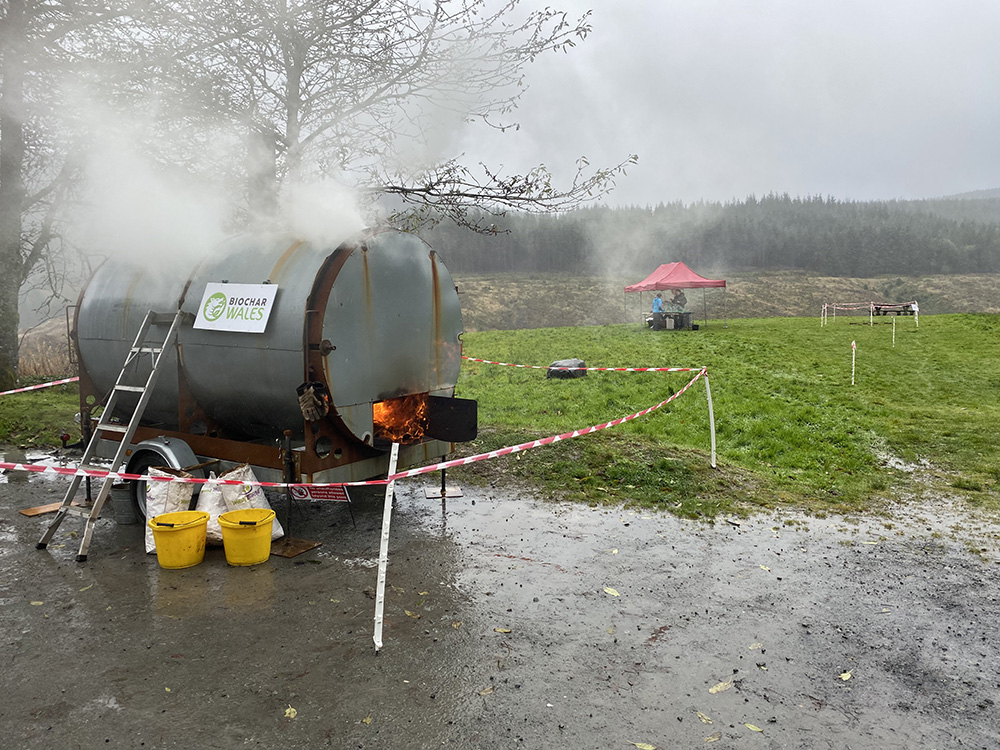 Extraction, waste and energy consumption become part of an evolving conversation, questioning how we can creatively use carbon sequestration for the future. It's also an invitation to shift our perceptions within a web of narratives found in this landscape. Of historic and political land ownership, Welsh Plains wool production and slavery, subsistence economies and historic tenant farming entwine with redundant MOD sites testing Rapier missile systems still classified by the government. These woven and often forgotten and obscured stories connect materials, people and place across space and time.
ARTSCAPE is a creative partnership alliance between Powys County Council's Arts & Cultural Service, National Resources Wales, Impelo, 4Pi Productions and Articulture involving local arts associates and communities.
The partnership has been formed to engage imaginatively engage with communities to stimulate re-connectivity, stir an enthusiasm for environmental caret taking in the face of climate change, and promote people's wellbeing though interrelated environment / place based and virtual / digital arts experiences.