Responding to place, time and materials for the Portalis Project
---
Responding to place, time and materials for the Portalis Project
---
Artist Interpretations commissioned by Amgueddfa Ceredigion Museum, Aberystwyth
Portalis Project - Supported by the European Regional Development Fund through the Ireland Wales Cooperation Programme.
This transdisciplinary project investigates how Mesolithic peoples, those first settlers might have adapted to their surroundings in order to survive and seeks to understand whether there are any parallels with how we can adapt to climate change now. 
I visited the University of Wales Trinity St David's Talsarn Archaeology dig with my children. This was very exciting and a great addition to my research for the project.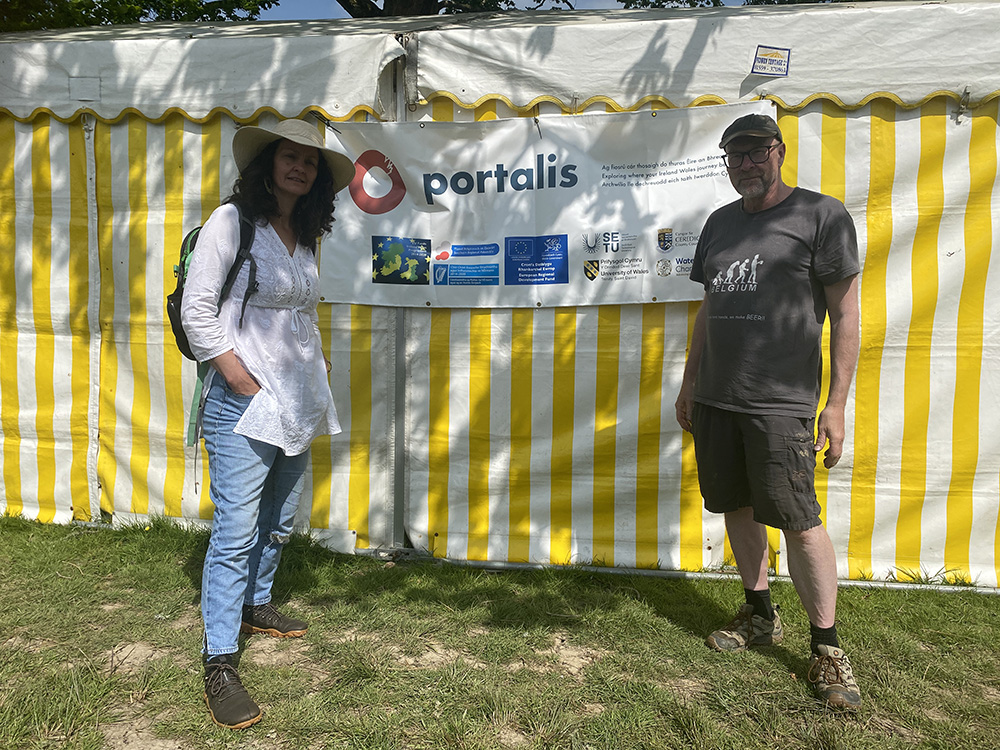 There were lots of students and volunteers making great efforts to find more Microliths and evidence of human activity on what would have been an island in a large lake during the mesolithic. People would have hunted for fish and wildfowl in a landscape that is now trees and divided grazing land. Whilst we were at the dig a sample of an ancient tree was being sliced and sent off for carbon dating.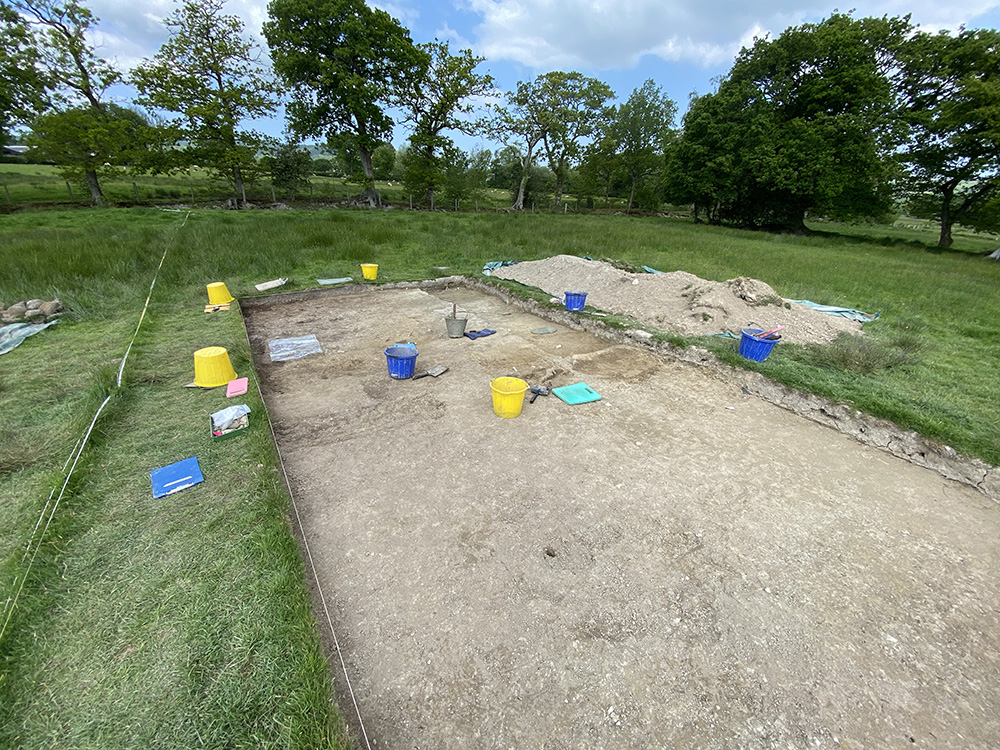 I was given a sample of excavated earth and charcoal for my materials research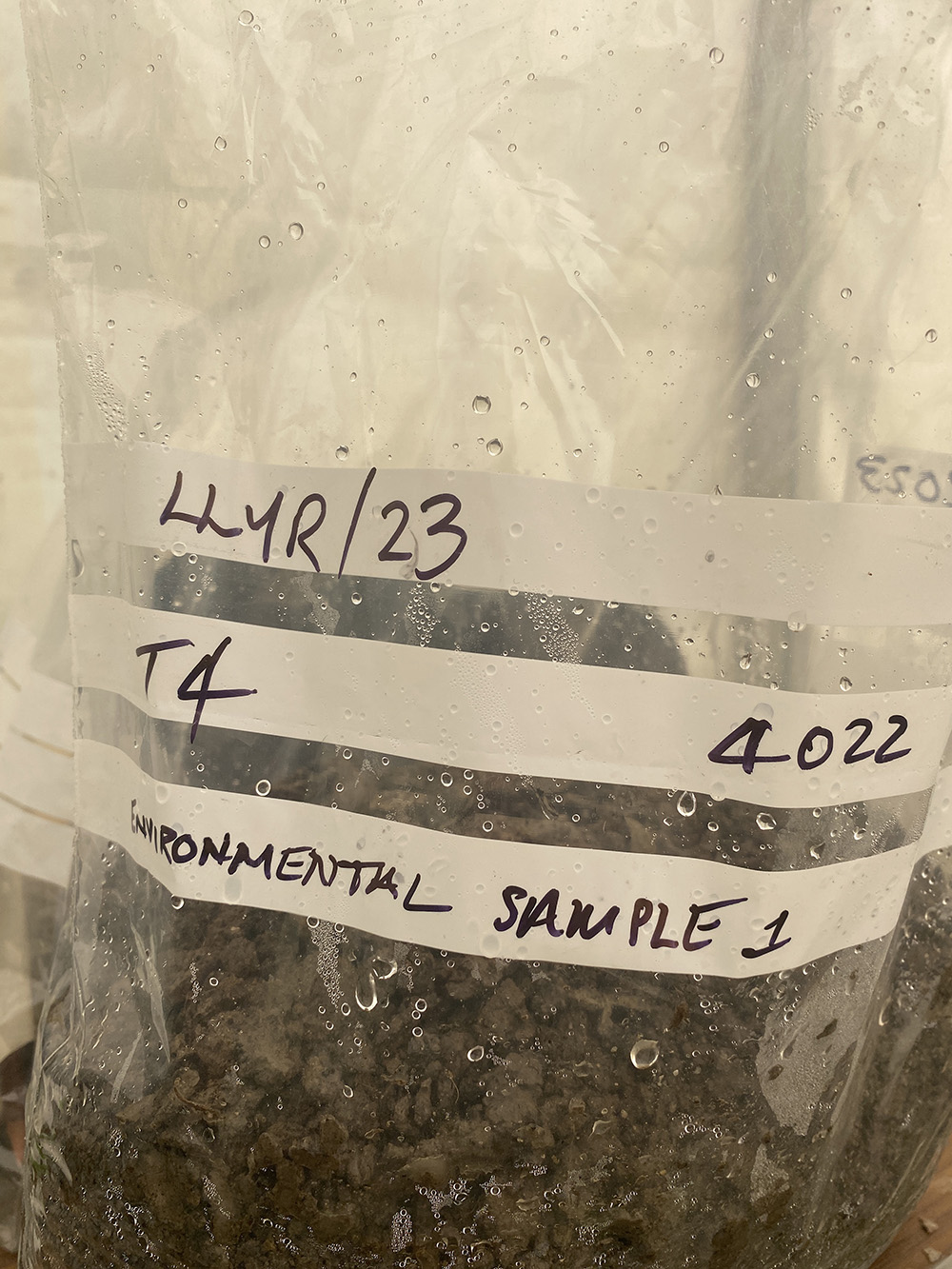 PART 1
Mesolithic Mother & 300 Thumbprints
It began with a 20 Mile walk as embodied creative diary carrying dandelion cordage made from 300 dandelion stems wrapped around a mother carved from oak.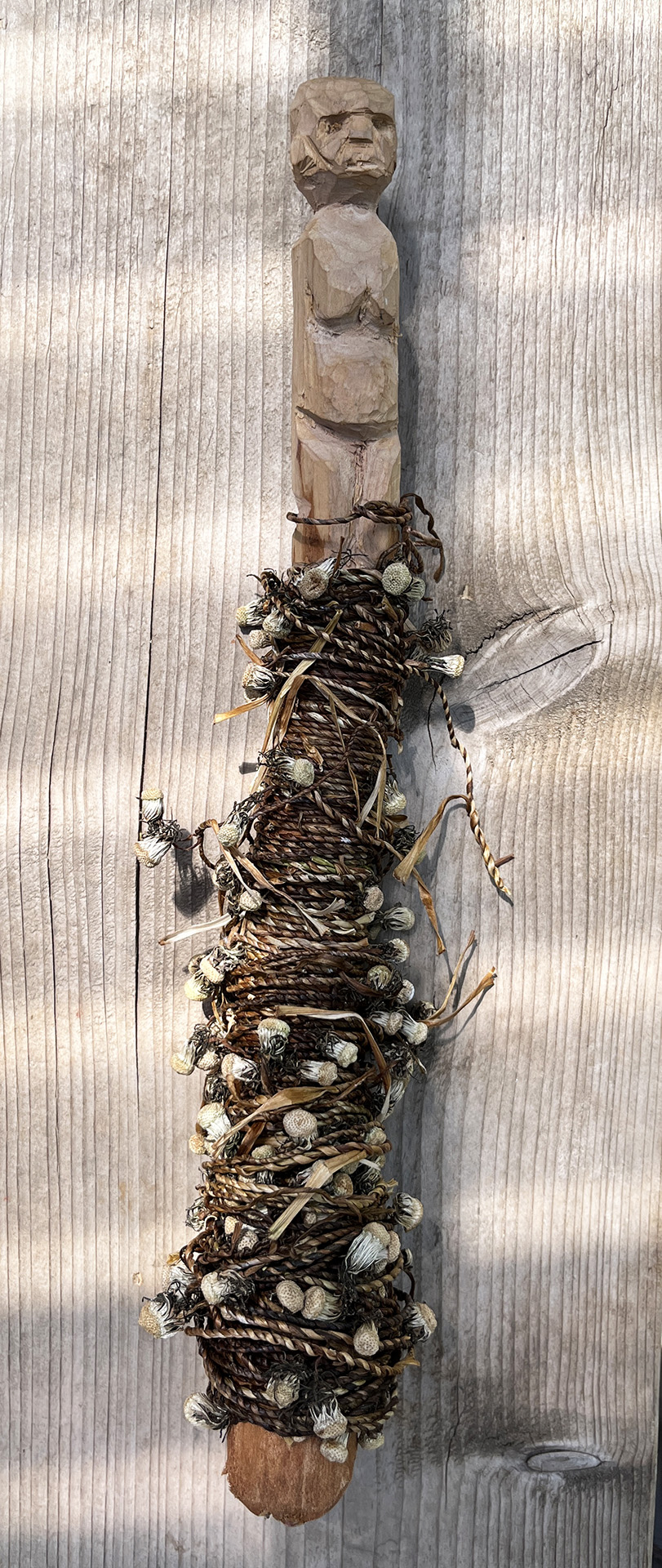 I set off from Cors Caron raised peat bog and Mesolithic archive following the Ystwyth River to Tan Y Bwlch Beach and its archaeological Microlith processing site.
Once at the beach I took red ochre with its primal, symbolic, industrial and cultural significance and used an egg to make tempera paint mixed in a shell.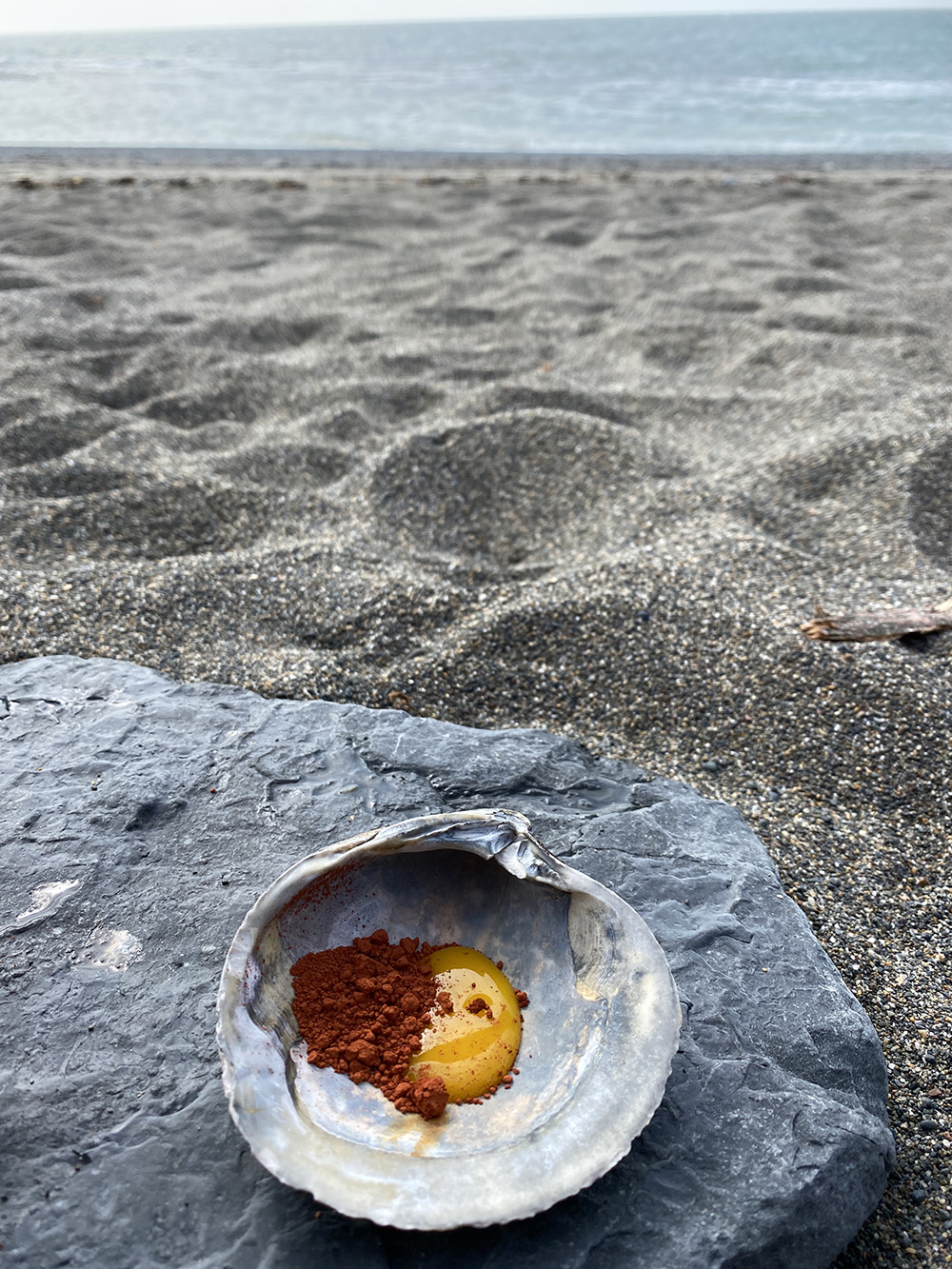 I then made 300 thumbprints on a washed up tree. It is 300 generations back to the mesolithic or 300 generations of my mothers. This was a meditative, temporary intervention designed to disappear with the weathering from sky and sea.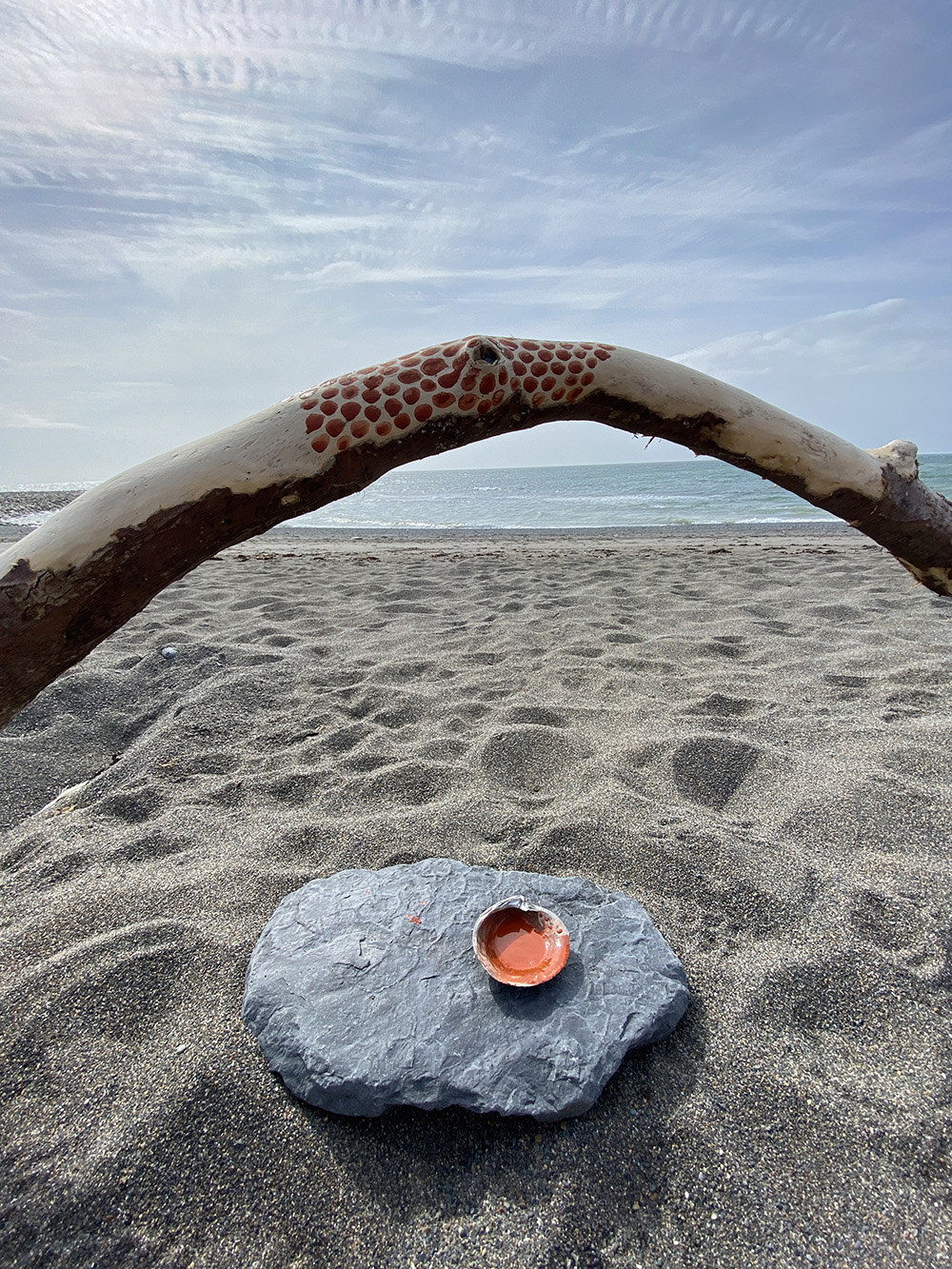 I walked on sweaty and tired to give a talk at the opening of the Portalis project at The Amgueffda Ceredigion Museum.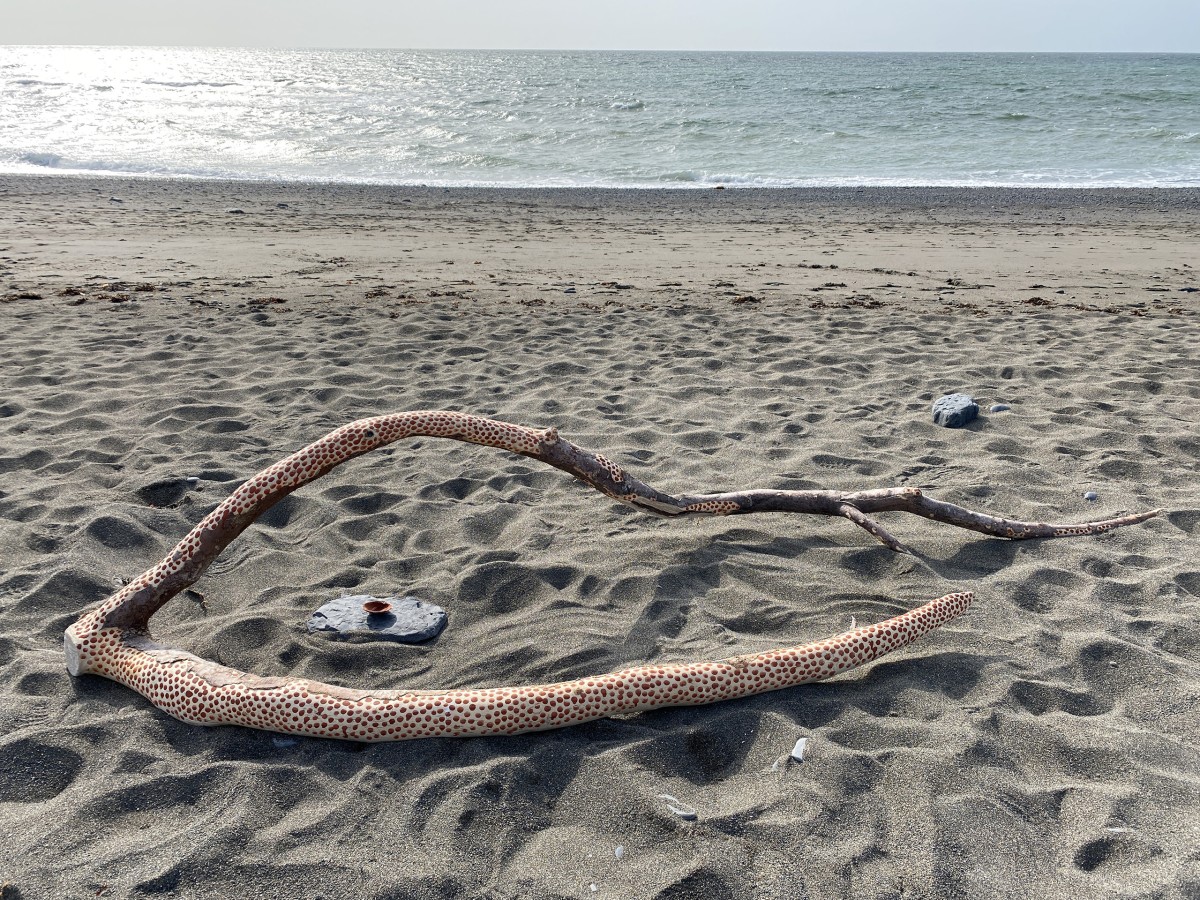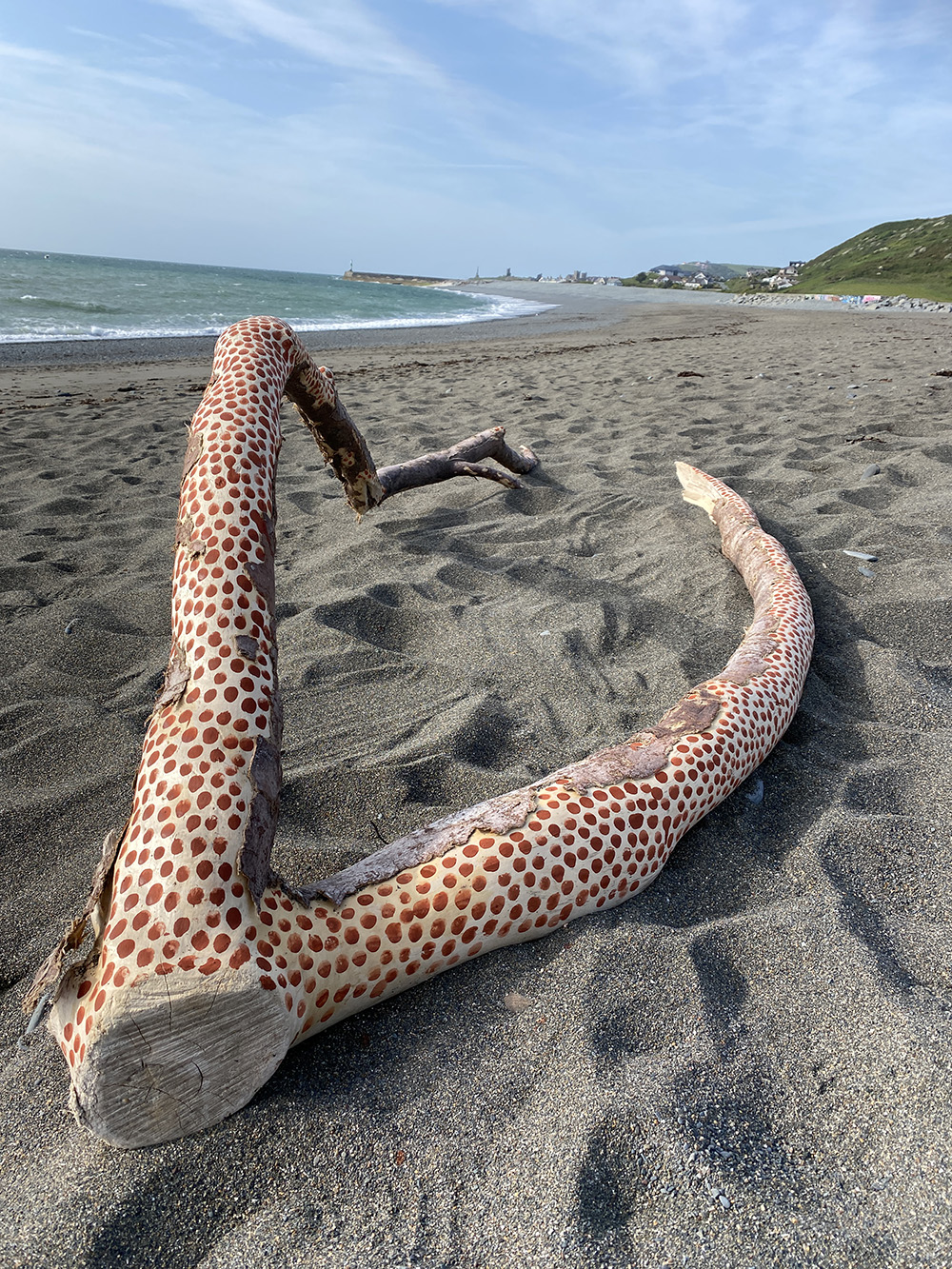 Part 2
Carbon Connection
A Temporary yet enduring thumb print cut into the ground at The University of Wales Trinity St Davids campus well being Garden.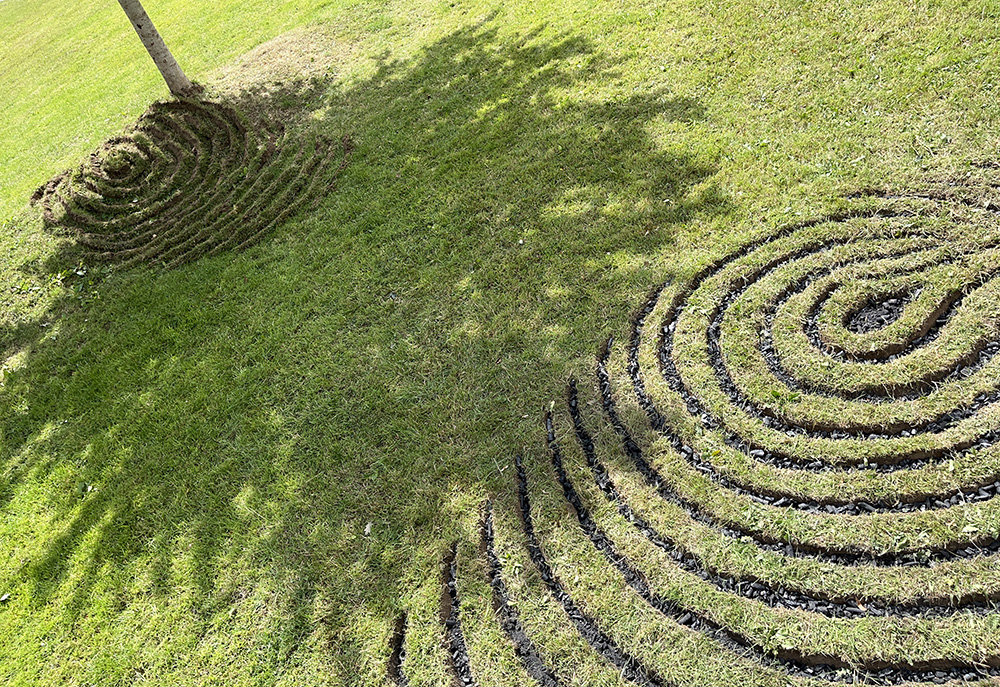 This work was designed to mirror the nearby carbon sinks, such as forests, wetlands, farmland and peat bog. By gently cutting turf to reveal the soil beneath then adding biochar to heal the ground adds a layer of reverence and to the project perhaps making is sacred consecrated ground.
The use of biochar ensures the longevity of the artworks even though they should leave no trace to the human, serving as a lasting reminder of the importance of environmental conservation, that the work can contribute to a bigger ecology and ultimately sequesting vital carbon back into the earth.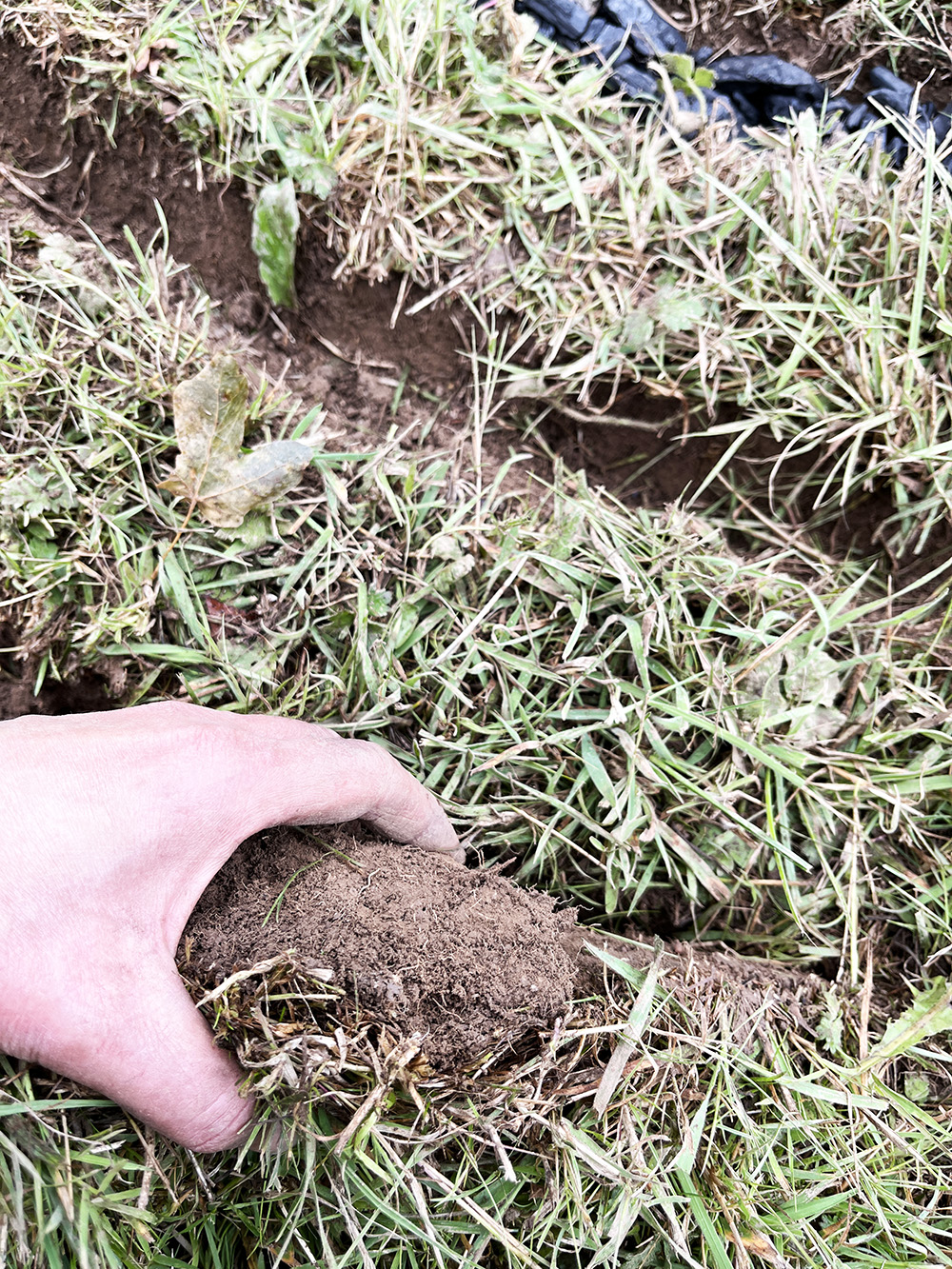 Site-Specific Designs: Each artwork I make is uniquely composed to suit its specific location and research for the project, ensuring that it integrates seamlessly with the natural landscape.
The passing public often engage with my processes raising awareness about environmental issues and this fosters a sense of stewardship among the community.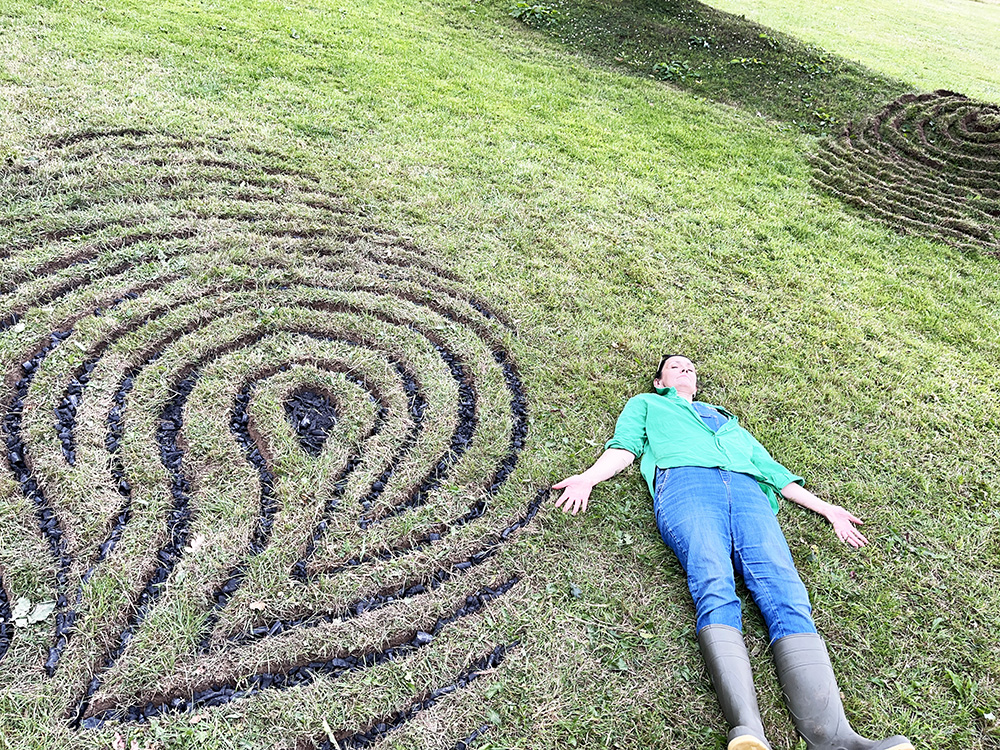 The project contributed to carbon sequestration, soil health improvement, and overall ecological restoration in the area in parallel to the healing nature of the well being garden itself.
Part 3
Nine Hazel Sticks.
Nine Hazel Sticks was a collaborative land art intervention working alongside and supported by the artist Pauline Woolley. Pauline's award winning works often relate to the night sky and solar imagery. Here is the film of my performance & temporary intervention by Pauline Woolley.
Borth beach has one of the best preserved ancient submerged forests in the UK. I helped Archaeologist Dr Martin Bates take an auger sample of the deep marine clay and peat sediments. The project developed from a child's question. How long would a hazel pole stand upright in this intertidal zone of exposed clay?
So this was the start of my third and final exploration along the Ceredigion coast between Borth and Ynslas Coastal Nature Reserve.
Hazelnuts have been harvested since Mesolithic times over 9,000 years ago. Stone-lined pits filled with over 100,000 burned hazelnut shells have been discovered dating to 6000 BCE.
In Celtic mythology there is an ancient tale of a sacred pool where nine holy hazelnut trees grew. This marked the border between this world and the underworld. The hazel nut is meant to be imbued with wisdom and prophetic knowledge. Also the druids, Greek and Roman gods were aided by a hazel staff when travelling between worlds.
By using materials of the Mesolithic like Hazel, red ochre, chalk and charcoal I made temporal connections of place, culture and materials of Ireland and Wales.
Painting each hazel pole with egg tempera and setting them deep in the archive of clay yet pointing to the vast night sky became a sacred act. They were tidal gauges and human support marking the liminal intertidal space and the horizon line as earth turned, sun retreated and moon rose. The ephemeral nature of the works and the emphasis on change, flow and flux above us, within us and all the space between made this an extremely emotive and exciting experience. Locals and tourists interacting with the process and in conversation became custodians of the work. They kept me updated on how many sticks survived the weather and each high tide, documenting the process for me. The sticks weren't washed up and there is no physical trace of the work remains.
The film edited by and in collaboration with Pauline Woolley is on permanent display at Ceredigion Museum, Wales. UK