Ingrid Murphy - Seen and Unseen
My Aunty rang me up to say she'd been to an amazing ceramics exhibition that had bowled her over. Imagine my excitement when I realised it was coming to Aberystwyth Arts Centre only an hour or so from our home in Wales.
A little nervous as always about taking our kids into galleries we did the normal tactic of diverting the kids whilst one of us check out whether it was breakable, friendly and most importantly interesting. My nerves and caution were as always a wise move. This was a ceramics exhibition with work on plinths and tables at waist height, enticing to touch and definitely fragile. But all was not what it seemed, the artist had designed this show to be interactive and what joy that brought our whole family. Alas by the time we saw the exhibition a lot of the work had had inevitable wear and tear and there was sadly a fair amount of damage. I imagine the artist had reconciled herself to letting go of the precious nature of art. one thing with ceramics and casting has going for it is you can make multiples, fingers crossed this was her plan.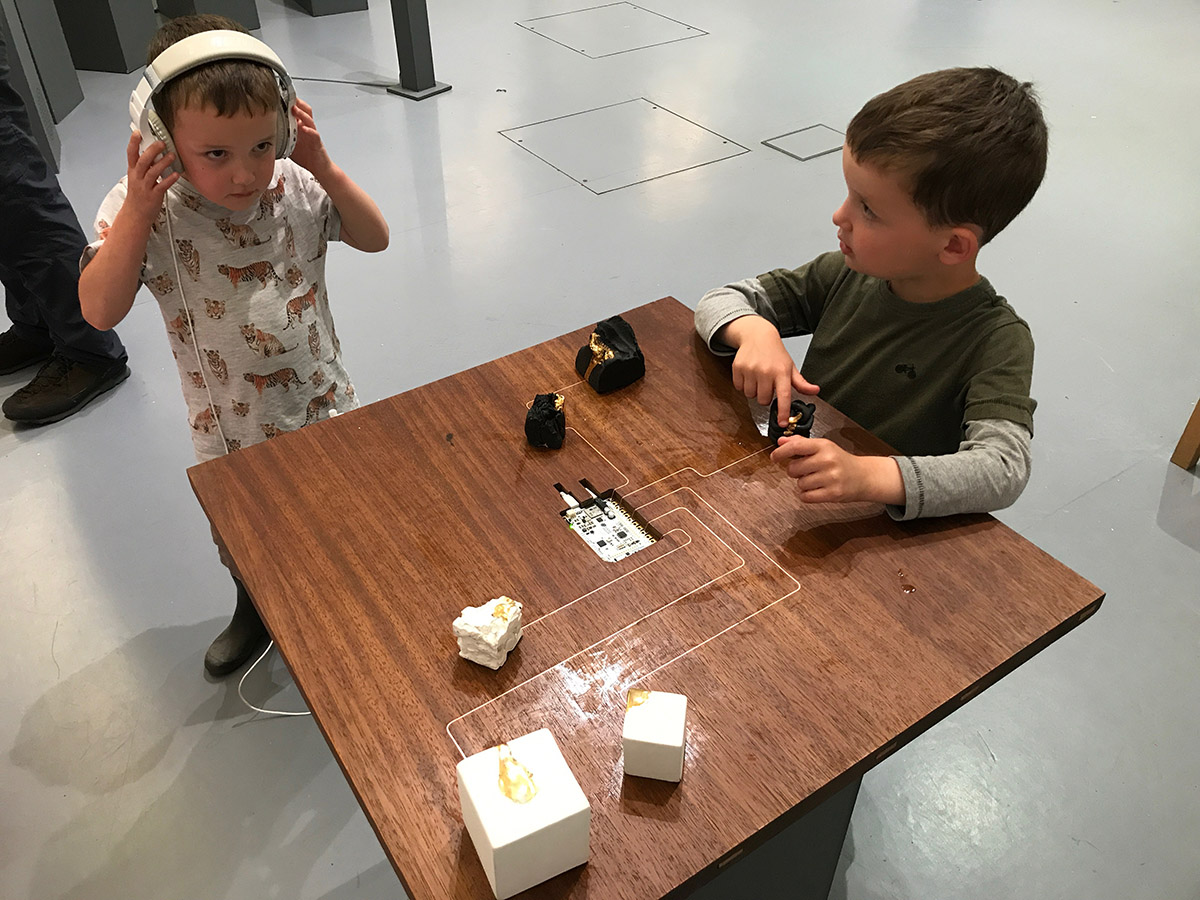 Having had my own exhibition that was interactive and that got damaged as a result of over use and lack of supervision of parents (I had the good luck to be inconspicuous observer of the space during the Easter holidays) and although most parents were fabulous with supervising there children in interacting with the work and talking to them about it. There were many who sat in the adjacent cafe and let their kids free reign to push the limits of the works, having children of my own I know the damage they can do unsupervised! This testing of my art seemed quite apt for my exhibition, as it was after all about birth, labour and the maternal all pushing us to our limits!
Back to Ingrid's wonderful work. It took partner and myself back to our pre-children travels to India, encapsulating ideas of place, memory and privilege. For the children it was just pure wonder, the soundscapes created by gentle physical interaction and the materiality and fragility made them stop in their normal 'full steam ahead' tracks, a wonder to behold in itself. The stillness, the meditative nature of the interactions and the artwork's innate ability to trigger memory and place were serene. These were very different experiences for adult and child. It was overwhelmingly beautiful and evocative; we came away in awe of the artist.
In the words of the curator Ceri Jones -
Connectivity is crucial to Ingrid Murphy, between people and places and across time. Her explorations provoke and surprise us as she marries traditional ceramic processes with creative technologies. Be it the view from inside a teapot or the sounds from the streets of Jaipur, her pieces connect us to different perspectives and stories. Seen and unseen is a witty expansion of the languages and qualities of clay.